Traveling South on Rt-13, cross the Chesapeake Bay Bridge Tunnel and go straight. Follow signs for I-64 East to I-264 East towards Va. Beach. Go approximately 8 miles on I-264 East and take the 1st First Colonial Rd Exit.
*Take a Right on to First Colonial Rd.,and continue straight to General Booth Blvd. Make a Right onto General Booth Blvd. and go approx. 4 miles to Princess Anne Road (7-11 on the left). Make a Left onto Princess Anne Rd and at the 2nd stoplight stay in the center lane and proceed through the light onto Sandbridge Rd (Food Lion Grocery Store on corner). Continue on Sandbridge Road about 4.5 miles. The Siebert Realty office is located at 601 Sandbridge Road and will be on the right.

Traveling East or West on I-64, take Rt. 264 (Virginia Beach/Norfolk Expressway). Take First Colonial Road Exit, and *pick up the directions mentioned above.
Estimated Driving Distance
To Virginia Beach
City
Miles
EDT*
Baltimore, MD
266
4½
Bristol, VA
431
7½
Charleston, WV
425
7½
Cleveland, OH
557
10
Detroit, MI
809
12½
Ft.Lauderdale, FL
991
16
Newark, NJ
369
7½
Philadelphia, PA
285
6½
Pittsburgh, PA
488
8
Richmond, VA
99
2
Roanoke, VA
306
5
Washington, DC
227
4

*Estimated Driving Time in Hours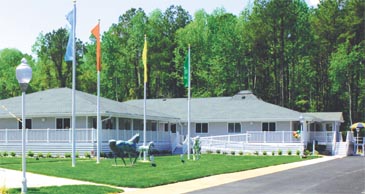 601 Sandbridge Road, Virginia Beach, VA 23456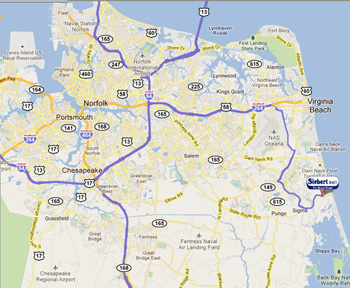 Click to enlarge....
Internet Directions to Siebert Realty:
Siebert Realty - Established 1962
601 Sandbridge Road Virginia Beach, VA 23456
Toll Free (877)422-2200 - (757)426-6200 E-Mail: mail@siebert-realty.com