Known as the "Outer Banks of Virginia"… peaceful Sandbridge Beach is a coastal community perfect for a slow-paced, relaxing vacation. Its five beautiful miles of sandy beach is for public use and open to everyone.

For your convenience, there are city beach access paths sprinkled along the oceanfront – so every rental is just minutes (few steps… or short stroll) from the great Atlantic.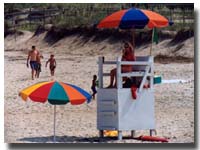 Little Island Park - This large public beach area at the southend of Sandbridge (south of the 3600 block) provides a great place to spend your fun-filled vacation days.

The park features lifeguards, covered picnic areas with grills, bath houses/showers, lighted tennis courts, basketball court, children's playground, and even a fishing pier. Pier open 5:30am - 11pm - (757) 426-7200.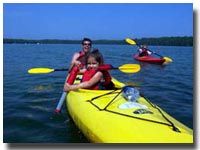 Kayak Nature Tours - Let these experienced tour guides "show you the ropes" around Back Bay. Kayak Nature Tours offers guided tours for adults and children (even beginners). No previous experience necessary with professional instructions provided. Single and Double Sit-On-Top Kayaks.

Trips run daily Wed. to Sun. Dolphin Tours - North End of Va. Bach. Advance Reservations required. Daily/Hourly Rentals. 757-480-1999/888-669-8368 www.tidewateradventures.com

Back To Nature – Situated along the coastline at the southend of Sandbridge, the Back Bay National Wildlife Refuge contains about 7,700 acres of beach, dunes, woodland and marsh. An additional 4,600 acres of the bay's shallow waters surrounding the refuge's marshy islands have been designated by Presidential Proclamation for the protection of migrating birds.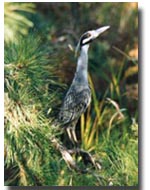 A visit to the refuge is a "must do" on your vacation! Visitors to the refuge have a variety of opportunities to observe wildlife in its natural habitat along various trails and dike roads. Among the possible sightings in the refuge are deer, wild horses, rabbits, raccoons, opossums, minks, foxes, hawks, osprey, owls, herons, swans, bald eagles, loggerhead turtles and, in the surf… pilot whales and dolphins. Whistling swans, Snow and Canada geese and several species of ducks frequent the refuge from fall through early spring. Peak waterfowl populations can number in the tens of thousands, with numbers in the range of 100,000 waterfowl using the refuge in a given year. The mallard, widgeon, gadwall, and black duck are the most numerous in population. Little Island is the starting point for excursions to the Back Bay Wildlife Refuge and False Cape State Park that are otherwise only accessible by boat. Daily tram rides leave the park for an excursion through the refuge to False Cape where visitors can spend two hours hiking and sightseeing before the return trip. For more information about this unspoiled wilderness, contact Back Bay National Wildlife Refuge at (757) 721-2412. www.baylink.org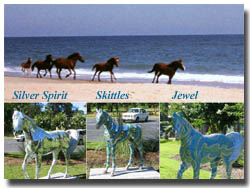 Born Free… In the 16th century, Spanish explorers brought to North America a group of small, swift, and sturdy horses whose forbearers once roamed the sands of Arabia. Descendants of these Spanish horses have roamed the Outer Banks of Virginia and North Carolina for more than 400 years. In 2005, Jean Siebert commissioned local artist Cindy Graff to decorate life-size horse sculptures, merging art and nature, as a way to pay tribute to these magnificent creatures that still run free. Our colorful horses are truly works of art that are on display in front of our office. Be sure to stop by and meet our proud Sandbridge ambassadors…Silver Spirit, Jewel, and Skittles, who serve to remind us of Sandbridge's rich heritage.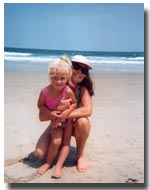 Coastal Living - It's truly a charmed lifestyle where you rise with the sun and unwind as it sets. Your days have a surreal quality as time begins to slow down. You find yourself mesmerized by the majesty of the ocean. You gradually feel comfortable waving to perfect strangers strolling along the shore. Slowly... you begin to realize that a whole new world is before you and that even dolphin and pelican sightings have become an everyday occurrence. Yes, coastal living is a wonderful, fascinating world of its own. We guarantee once you've experienced coastal living at Sandbridge - you'll be hooked for life! Before you arrive, you may want to glance at the information below so you can begin familiarizing yourself with our beach and how it is laid out (public beach accesses).


Locations - Our web site defaults to displaying Oceanfront rentals first, then Semi Oceanfront, and so on... gradually moving away from the ocean. Each section is in geographical order, starting at the northend (2200 block) and ending at the southend (3600 block). If you are looking for two rentals side by side... keep in mind that addresses increase by 4. Example: 3200 & 3204 Sandfiddler Road are rentals next door to each other.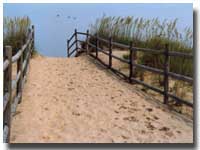 Public Beach Access - The City of Virginia Beach provides access to the beach via walkways or stairs along the oceanfront (where beach conditions allow). Not all oceanfront properties have their own private beach access: therefore in some areas, it may be necessary to walk several lots up or down the beach to gain access. The following pairs of oceanfront addresses are on either side of a public access stair or path to the beach.

* = Open Beach (No Seawall)
2224 & 2228 *
2476 & 2500*
2756 & 2760*
3048 & 3052*
3368 & 3372
2240 & 2244
Public Beach*
2780 & 2800*
3068 & 3100*
3384 & 3400
2256 & 2300
2556 & 2560*
2816 & 2820*
3112 & 3116*
3416 & 3420
2312 & 2316
2568 & 2572
2836 & 2840
3130 & 3200*
3440 & 3500
2324 & 2328
2584 & 2600
2856 & 2900*
3216 & 3220*
3512 & 3516*
2344 & 2348
2612 & 2616
2916 & 2920*
3240 & 3244*
3540 & 3544*
2364 & 2400
2628 & 2632*
2936 & 2940*
3260 & 3264*
3600 & 3604*
2416 & 2420
2640 & 2700
2960 & 3000*
3280 & 3300
3640 & 3644*
2436 & 2440
2716 & 2720
3016 & 3020*
3320 & 3324*
3660 & 3664
2456 & 2460*
2736 & 2740
3028 & 3032*
3344 & 3348
3688 & Public Beach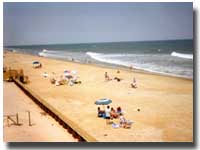 What is a Seawall? - Seawalls are wooden, concrete, or steel structures built along some oceanfront lots to hold back the encroachment of the sea. If high tides or strong coastal conditions ever limit the size of usable beach in front of your rental, Sandbridge offers two public guarded beaches located at 2500 Sandfiddler Road (as you enter Sandbridge) and Little Island Park at the south end (3700 block).